Pure Telecom: Customer service in telecoms
We've come a long way from the first mobile phone which weighed 1.3kg and equaled in size to a standard brick. The first call was made from this phone on the streets of New York in April 1973, when the vice president at Motorola Communications called his rival at Bell Labs to let him know that Motorola had won the race to create the world's first mobile.
Now, 42 years later, we have a multitude of devices at our disposal and we need superfast broadband access to run all of them, both at home and at work. Many of us choose to keep our traditional landlines as well, and it's important to get a good deal when it comes to a package for all your telecoms needs; including phone, broadband as well as your phone and broadband. There are a lot of providers out there, but one of the most important differentiators for a customer when it comes to choosing a telecom provider is exemplary customer service.
Customer interactions impact on word of mouth
How often has a colleague, friend, or family member recommended a restaurant or particular shop to you and you've gone with their recommendation? And how often have you heard negative feedback from someone whose opinion you trust, which has caused you to avoid a particular place, product, or service! Customer experience is far-reaching when it is both positive or negative.
Our customer service team is always on hand to answer your queries. We employ more than 100 people in customer care, tech support, and account management. When a makes a call to our team, it is answered, on average, in four seconds. It takes 20 seconds on average for a member of the team to answer a call from a home customer, which is extremely fast!
Customers within the online community
We don't just do things well in the old-fashioned way. We offer customer service online too. Customers have the chance to get in touch and have their queries answered on social media, including Twitter and Facebook, and on our instant messaging (IM) function on the homepage of our website. We're personable, friendly, care about our customer service and we collaborate across our team so we can solve your issues in the quickest time possible!
Here is a response from a customer, Sandra Murphy, proprietor of The Rising Tide Bar and Restaurant in Cork, on social media after we rectified a problem with her broadband: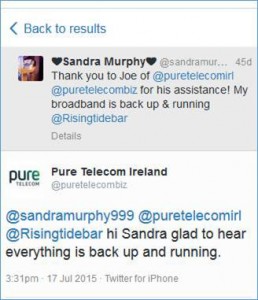 Pure Telecom: Customer service in telecoms
We take bad customer service seriously
It doesn't make business sense to provide bad customer service and here's why. It is up to seven times more expensive to gain a new customer than it is to keep an existing customer. Some 78% of consumers admit they have abandoned a transaction due to bad customer service experiences. Unhappy customers are highly unlikely to be repeat customers as 89% of them report having stopped doing business with companies because of bad customer service. Back to word of mouth again; people are twice as likely to talk about bad customer service experiences than they are to talk about good experiences.
There are lots more reasons we don't even mention! Don't even get us started on layers of automated service and how annoying they are. It all boils down to the same thing: good customer service makes sense
Saying thank you to our customers
Business is competitive and we want to reward customers for making the right choice and choosing Pure Telecom's services. That's why we frequently offer deals, like our recent Back to School offer. Tokens of appreciation like this one show our gratitude to customers for using our service. We currently have 30,000 customers and our customer base is growing at an average of 20 percent for the last three years, proving we do things right.
Get in touch
Put our customer service to the test and get in touch with us today with your broadband, phone or broadband, and phone questions!