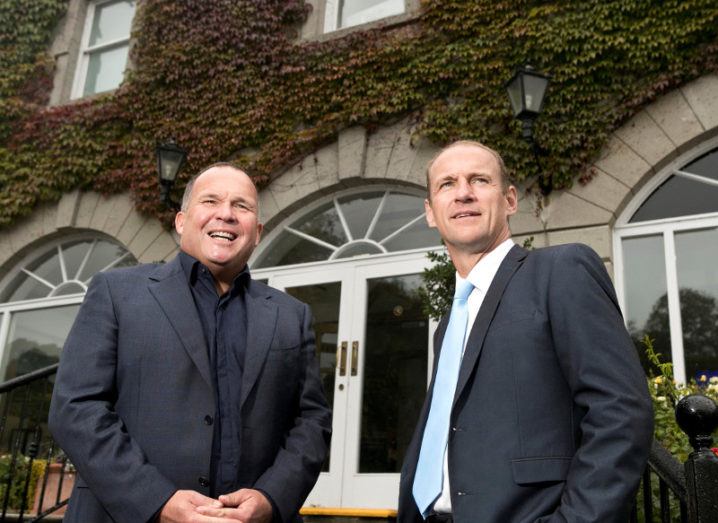 Pure Telecom and BT Ireland sign multi-million telecoms deal
Pure Telecom is committed to providing the best phone and broadband services in Ireland. To help us to continue to do this, we have signed a multi-million euro contract with BT Ireland. This agreement will see Pure Telecom offer broadband and phone services to 1.8 million potential customers via BT Ireland's nationwide infrastructure network. BT Ireland's 4,300km multi-gigabit fibre network extends our countrywide reach and will allow us to offer broadband to a greater number of hard-to-reach rural premises as fast, reliable internet connection becomes paramount to people's daily lives.
Now, it's not just one device people are using to access the internet. We carried out research earlier this year that found that 59% of Irish people use three or more internet-connected devices on a daily basis – and many are using those devices at the same time. Supporting multi-device use, the deal with BT Ireland allows Pure Telecom to offer internet speeds of up to 1,000Mbps in eligible rural and urban areas.
Speaking about the announcement, Paul Connell, CEO, Pure Telecom, said: "This latest deal is of strategic importance to both Pure Telecom and BT Ireland and could grow to up to €20 million over the coming years. BT Ireland has an extensive network across Ireland and we are delighted to be partnering with them. BT Ireland is a trusted provider in the Irish telecommunications sector and will help us to broaden our reach across the country and support an increasingly technology-driven population.
"Our daily lives are increasingly reliant on digital communications and Pure Telecom is committed to supporting that by bringing the latest telecommunications and broadband services to people, households and businesses across Ireland. Key to that is ensuring that not just urban locations benefit from the fastest broadband speeds. We want every community in the country to have access to high-speed internet and we work with a number of Ireland's leading wholesale providers to help make that happen."
"Our daily lives are increasingly reliant on digital communications and Pure Telecom is committed to supporting that by bringing the latest telecommunications and broadband services to people, households and businesses across Ireland. Key to that is ensuring that not just urban locations benefit from the fastest broadband speeds. We want every community in the country to have access to high-speed internet and we work with a number of Ireland's leading wholesale providers to help make that happen."
"We all share a common goal for every home and business in the country to enjoy the same choice and access to high speed broadband regardless of location. This new offering from Pure Telecom supports this ambition and is great news for consumers, businesses and the broadband market as a whole."